[
Intro
|
Gear
|
my cultures
|
agar preparation
|
Longterm storage in distilled water
]
yeast ranching for the Junior Scientist in all of us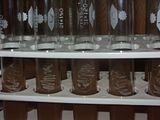 Is this your first culture? If so, read this note about care and feeding...
Yeast culturing is cool because it's where you get to pretend to be a microbiologist, use neat gear, and save about a ton of money on liquid yeast.
Yeast cultures can be done in slants (ie, test tubes leaned so the media congeals at an angle or "slant"), in petri dishes, or frozen in specially prepared anti-icing media. I use the slant method.
Yeast culturing is not particularly difficult but it does require a bit of time, some extra pieces of hardware and sterilization (not sanitation) that you don't often use in homebrewing. Planning ahead can greatly reduce the time factor. Basically you make some media for the yeast to live on, inoculate the media with the yeast, then later on you inoculate your starter with the cultured yeast and pitch when ready.
my yeast ranch
Culture-al history, hahaha!