growing hops for homebrew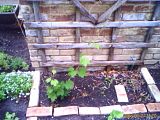 20090410 - planted Hallertaur this year and they are about 4" tall. No sign of the hops I killed last year.
unfortunately, I let them die off and only got a few hop cones. Our water timer died and I did not notice it.
20080504 - Cascade is 5' tall. Goldings is about 8" tall and starting to look for rope to grow on. Strung some sisal for them today.
20080421 - Cascade has two strong bines and is about 3.5' tall as of this writing. Goldings is about 6" tall.
20080410 - Cascade broke ground.
20080325? - hops arrived; store in fridge until weekend, then planted.
20080228 - Ordered Cascade and Goldings from NorthernBrewer.
$Id: hops.orb,v 1.3 2009/08/15 16:11:03 mouse Exp $