Asus Eee PC 900
This little thing is
genius
. Tiny, neat, lightweight, with modest-but-modern internals.
I use it around the house connected to wifi and away from the house or free wifi in offline mode.
The Good:
Cheap. Eee netbooks of the previous generation are commonly found as refurbs in the $150-$200 range (shipped).
ultraportable. It's a little bigger than two stacked DVD cases.
SSD instead of hard drives. Quiet, robust, and uses less power. Theoretically faster than HDs but not all SSDs are superfast.
very friendly to running Live CD distros / installs off flash drives. Make your USB bootable with the remarkable freeware Unetbootin.
3 usb ports!
up to 2GB of ram
Peer support is awesome.
The Bad:
Battery capacity is minimal, only about 2.5hrs. This is made worse by a tendency in the hardware of the 900 Celeron CPU to suck power even when the computer is turned off.
Can be picky about RAM. Might have to try more than one brand to get stable results.
alterations/upgrades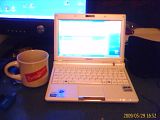 2GB PNY DDR2 (PC2-5300) for $17
8GB MicroCenter SDHC for $15. I do backups on the card, and keep downloads there.
Upgraded the supplied XP to linux. Currently running Puppy Linux LuPu flavor.
$Id: eee.orb,v 1.9 2011/06/22 13:32:49 mouse Exp $